Kindle is an application allowing ebooks from Amazon's store or personal ebooks to be read on a mobile phone, tablet, or personal computer, with no Kindle device required. Kindle is owned and operated by Amazon. Currently, users who would like to participate in a book club are not able to collaborate via the Kindle app. This project was a team project for mobile app design and product add-on for Kindle.
Role: UX/UI Designer, Information Architect
Methods: Interviews, Affinity Mapping, Site Maps, Competitive Analysis, Persona Creation, Wireframe, Prototyping, Usability Testing
Tools: Figma, Photoshop, Procreate, Google Suite
Duration: 2 Weeks
As I mentioned above, currently users who would like to participate in a book club are not able to collaborate via the Kindle app. They can track their reading progress, bookmark places they want to revisit, make highlights, and take notes throughout books. However, they are not able to see any of this activity for accounts other than their own. My team and I decided to create an add-on product Kindle BookClubs for Kindle to increase engagement for the users.
Technical Requirements
Addition of a book club feature
A user can join or create a book club with other users
The book club members can collectively read the same edition of the Kindle ebook
Users may choose to view the other book club members' reading progress, bookmarks, highlights, notes
The feature may include a calendar showing book club meeting days/times
The feature may suggest discussion questions for the book club
Aspects to consider
The feature may suggest discussion questions for the book club
How could users find a book club group?
Does one book club group pay for one ebook?
If the group collectively pays for one book, do they have to return it (is it a loan)?
Or will everyone be required to buy their ebook?
How could a group comment on the book?
How could members know what pages others are on?
How could members see each other's bookmarks, highlights, and notes?
How long does each book club session last? Is it up to each book club?
How will the book club select the book they will be reading?
Competitive and Comparative Analysis
Our team conducted both competitive analysis and comparative analysis. These are some key findings that we thought are important for our design. For
competitive analysis
, we include Bookclub, Bookclubs, WeChat Read, and Apple Books.
Bookclub
Could invite others into the app
Bookclubs
Has a poll function. A survey user needs to answer
Have a zoom meeting link for users to meet online
A detailed description of individual bookclub
A want-to-read list for book club
WeChat read
A function for sharing insights in the book
See others' reading pace
Hide your bookshelf from other users
Apple Books
Audiobooks are available
Send the book as a gift through email
For
comparative analysis
, we included Google, Discord, Slack, Reddit, Duolingo, Pinterest, Spotify, Doodle, and Instagram.
Google
Shared files with real-time updates
Calendars, events, reminders
Edit/comment/view permissions
See who is online
Discord & Slack
Separate servers, channels, private msgs
Schedule events (Discord)
Bots for reminders
Pinned posts
Threading feature
See who is online
Reddit
Subreddits (can be private)
Pinned posts
Earn points for posting/commenting
Earn badges for certain achievements (gamify)
Navigate to a user profile to see all their comments/posts
Moderators review posts, ban users, pin posts
Duolingo
Reminders about finishing lessons
Progress tracker (levels, badges, gems, hearts, achievements)
Specific goals and challenges
Pinterest & Spotify
Curate boards and playlists based on interests and topics
Boards/playlists may be public/private and collaborative
Doodle
Share availability for an event
Instagram
Post and view comments on posts
Account can be private and not viewable to non-followers
To view the full analysis click
HERE
Current Site Map
Interviews
Our team conducted 7 user interviews with an age range of 22-65 years old. Our interview guide started with basic questions about reading habits to specific questions about book clubs for people with a history in book clubs. Most of our interviewees had some history of using e-books, though some were still advocates for hardcopy books & libraries. We found people relied heavily on recommendations from friends, family, podcasts, and sources like GoodReads. Most people were deterred from joining a club because of the time commitment and busy schedules. People who were members enjoy book clubs for the social aspect.
Affinity Maps
Our team created affinity mapping from interview notes. It helped us organize our many interview notes into more succinct categories and ultimately illuminated who our primary and secondary personas would be.
Primary Persona
Secondary Persona
Problem Statement
Jack needs a way to be part of a flexible book club that fits around his demanding work schedule so that he can interact and share insights with fellow readers and still maintain the freedom to read what he wants when he wants.
User Flows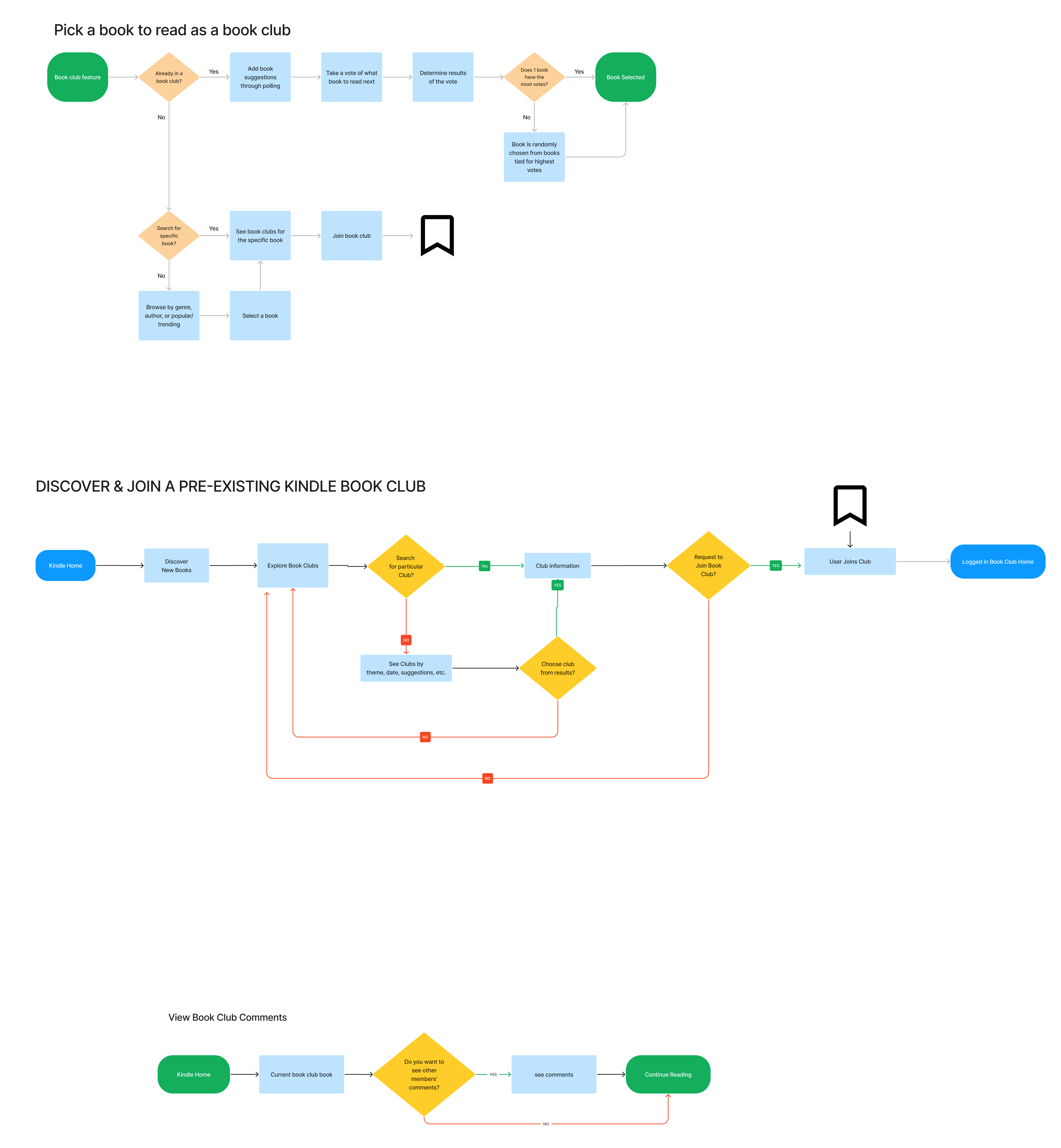 Design Studio & Sketches
Our team did a round of design studio. We broke up sketching into sections for us to tackle individually. Each one of us sketched 2 user flows.


Mid-fidelity Wireframe
We gathered our design insights from the design studio and did mid-fidelity wireframe. The design style was built off pre-existing kindle app.
Hi-fidelity Mockups
After mid-fidelity wireframe we did hi-fi mockups, we brought in the amazon font and color style and created typography, color, and grid guide.


Discovery Kindle book clubs
Join a pre-existing book clubs
Picked a book to read as a group
View others' comments
We did two rounds of usability tests with 8 users. The goal of the usability test is to successfully navigate through the new Amazon Kindle BookClubs feature by discovering, joining, reading, and interacting in a book club in under 10 minutes with only 3 errors.
1. Discover the book club's feature.
2. Find Sci-Fi-related book clubs.
3. Join a specific club.
4. Vote for the August 2022 Book of the Month book.
5. View other members' comments on the book club's current book.
First Round of Usability Test Insights & Changes

Second Round of Usability Test Insights & Changes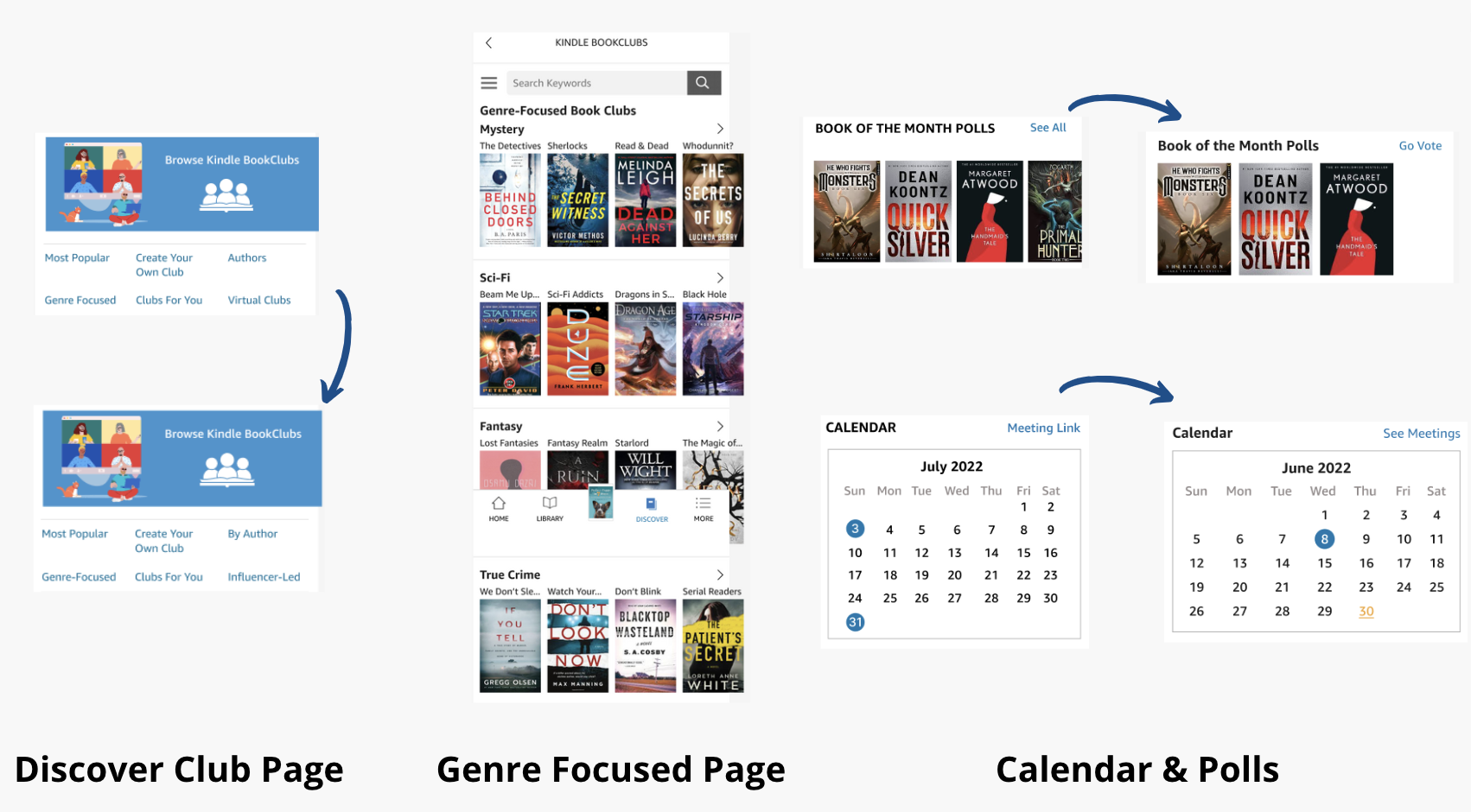 Out of Scope Design Considerations
Hamburger menu within a specific book club
We designed a hamburger menu for when the user is on the Kindle BookClubs feature homepage

The user can use this hamburger menu to access:

Your Lists
Storefront
Kindle BookClubs Profile
Your Kindle BookClubs
Clubs for You
Most Popular
Genre Focused
Influencer-Led
By Author
Themed
Create Your Own Club
All Categories

This menu relates to the Kindle BookClubs feature in general

We would like to build out another hamburger menu for when the user is on the homepage of a book club they have joined

The user may be able to use this hamburger menu to access:

About This Club
Members
Calendar & Meetings
Book of the Month Polls
Currently Reading
Our Reading Wishlist
Books We've Read
Comments & Highlights
Contact Host(s)

This menu would help the user manage and navigate actions for each specific book club
Progress/status on current book
We would like to design a progress/status indicator so the user can see how close they are to finishing a book for book club
The user may be able to see:

Reading timeline
Chapters to discuss during the next book club meeting
# of remaining chapters in the current book
Milestones and achievements
We would like to design fun ways to celebrate the user's achievements, such as through levels, badges, gems, hearts, achievements
We may have specific goals and challenges for the user
Users may unlock achievements by:

Reading a certain number of books with book clubs
Reading a certain number of pages with book clubs
Commenting or liking other members' notes on books
Profile page for Kindle BookClubs user
We would like to design a profile page for the user
This page may include:

When the user joined Kindle BookClubs
How many book clubs the user belongs to
Settings for managing preferences related to the Kindle BookClubs feature
The page that lists all book clubs that a user belongs to
We would like to design a page that lists every club that a user is a part of
Some users may be part of multiple clubs
Feature to collapse other members' comments in a book
We would like to design a way for users to collapse comments that they have already viewed if they wish to do so
This may allow users to easily see which comments they have not seen
Messaging feature
We would like to design a feature to allow book club members to message one another
This feature would be separate and distinct from the feature to view/share comments within the book itself
Aggregate members' schedule availability
We would like to design a way for members to submit their schedule availability so that the host can schedule/reschedule meetings if necessary